>> Monday, December 15, 2008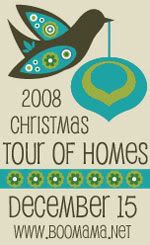 Today is Boomama's annual Christmas Tour of Homes. This is the first year I am going to participate. I've always wanted to, but there was the little problem of my not having a blog that made it difficult. Now I not only have a blog, I have taken pictures to post. I have to admit, though, that Christmas decorations just don't look as good in pictures as they do in real life. It's the lights. There's just no way for the average-Joe photographer with an average-Joe camera to capture the magic of Christmas lights. But I did my best. So without further ado...... (cue drumroll).....the highlights of my Christmas decorations.


The tree. It is fake. I admit it. I used to be a true purist, insisting that only real trees were truly Christmas trees. I only truly felt strongly about it while I was still living at home and someone else (my Dad) was cutting down, dragging home, spider-removing, setting up, watering and paying for my tree. It's easy to have principles when you aren't the one paying for them. So now I have a beautiful fake tree that is easy to set up, has already payed for itself and is not a fire hazard. You can't tell it from this picture, but there are a billion lights on this tree. It's wonderful.




The wall I spend a great deal of my time looking at. The wall with the TV (even my TV is Christmas-y...that's Mickey's Twice Upon a Christmas my kids are watching as I take these pictures.)












Another shot of the same wall, this one includes the Advent Calendar. Right on top of the cable box and DVR. Just like in the olden days.






This is the sideboard I got for Christmas last year that I absolutely adore. That garland is lit up, you just can't tell. It's really pretty. I'm also a big fan of wrapping up all of my wall art and pictures to look like big presents on my walls. It's a big holiday impact for VERY little money.
Just like this one here.
And also....of course my home has several (5) nativity scenes. Jesus is the reason for the season and I don't want Him to be forgotten in the midst of all of the festivities. So He is an ever-present part of our holiday decor.
He's even in our bathroom.
Merry Christmas everyone! I hope you are all enjoying all of the sights, sounds, smells and blessings of your holiday season! Thanks for touring my home with me!